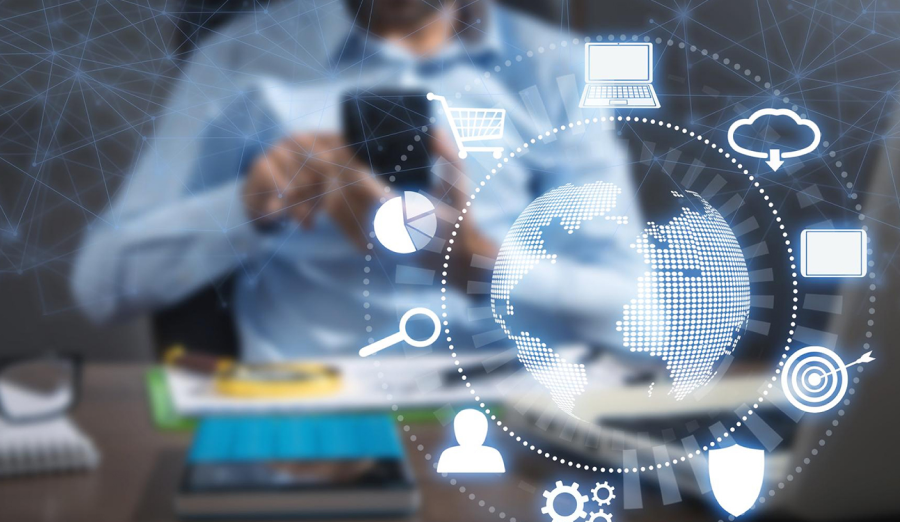 The eCommerce industry is on the rise today, and everyone wants to leverage its potential. With COVID-19 giving a boost to the E-commerce industry. It is resulting in a surge in customer demands for online shopping for products from all categories. With increased customer demand, many new players have entered the eCommerce industry, making it difficult to stand out. However, gaining a competitive edge is easier than it seems. All you need is the right tools and efficient business operations management. A custom PIM Solution is all you need to achieve this milestone.
What is a PIM Solution?
A PIM solution is a Product Information Management Solution comprising a set of processes and features related to all spheres of the product lifecycle. A PIM solution collects product information from multiple data sources and helps manage it in a centralized tool. Businesses can manage, enrich, categorize, distribute and synchronize product information from a single, accurate view.
A PIM solution serves as the central repository for all product-related information, enabling users to publish product information on all configured output channels from a centralized data hub. It optimizes all processes related to product data, eliminating manual and jaded siloed approaches to managing and distributing product information, which usually results in errors and operational inefficiencies. With a PIM solution, businesses can reduce costs and revenue loss while increasing customer satisfaction.
What are the benefits of PIM for E-commerce marketplaces?
An eCommerce marketplace is home to hundreds and thousands of products with various attributes. Managing information of various products and precisely publishing the product data on the different output channel(s) makes it challenging to run an eCommerce business effectively.
A PIM solution is the answer to all the problems related to product management. PIM offers an enterprise-ready interface that enables businesses to improve product presentation quality and enhances the productivity of the product management processes.
PIM Solution helps businesses to manage complex data structures with ease. PIM Solutions lets businesses focus on their prime role while maintaining the efficiency of the overall product management process. Performance and scalability are standard features in PIM Solutions, adding to the overall eCommerce marketplace experience.
Here are the 5 prime benefits of using a PIM solution for your eCommerce business.
1. Holistic product data management
PIM systems are more than just product data management. They offer complete product management to businesses enabling them to efficiently manage their product lifecycle and track changes in real time. PIM systems allow data management by ensuring data accuracy and consistency. They also provide
easy product information editing,
data validation,
custom views,
user management privileges, and
control over publishing and versioning.
With product data management on the one hand, the PIM system equally enables data modelling. It has the capability to maintain relationships and associations between multiple field sets, categorization of data, data organization and classification while syncing various product lines and families.
It enables the creation of classification standards empowering enterprises to develop flexible and scalable data models. Therefore, combining data management and modelling, the PIM system provides high data quality with complete enrichment and auditing capabilities, acting as a holistic product data management tool.
2. Central Database
PIM system acts as a hub which creates a centralized location to manage product information collected from various data sources. PIM includes all types of information related to every product with manufacturing materials, technical and dimensional data, photographs, schemas, etc. This centralized product information database gives a single source of truth for complete product information management. PIM solution makes managing, updating, and tracking product data easier and faster in a single and comprehensive product view.
3. Omnichannel efficiency
The omnichannel experience increases brand identity and customer loyalty with consistent and uniform content publishing. A complete PIM solution comes with added scalability feature that supports omnichannel publishing. It enables businesses to post product data rapidly on all outbound channels, including social media, marketplaces, mobile applications and more.
PIM solution streamlines the product information flow from a central location to integrated channels while ensuring data accuracy and consistency, supporting businesses in establishing a strong brand image.
4. Easy integration with other systems
One of the significant benefits of a PIM solution is that it can be moulded according to business requirements. Highly customizable, the PIM solution easily integrates with existing enterprise systems, including legacy and native ones. PIM can integrate data from ERPs, CRMs, product catalogues, mainframe legacy systems, Business Intelligence (BI) software, application servers and more. Today the latest PIM solutions are API-driven for hassle-free integration, enabling real-time and faster interaction between multiple systems.
5. Improved customer experience and ROI
Continuously improving your customer experience is crucial while running an eCommerce business. Because better customer experience leads to a higher conversion rate, hence, increasing ROI. A PIM solution that creates a centralized product repository with consolidated product information streamlines product data management and enrichment process to the last mile for effective operations.
PIM enhances the complete product experience and aligns it with customer needs. A PIM solution transforms unstructured data into consistent and accurate data, ready to be published on all integrated output channels. This results in improved customer experience, enhancing customer satisfaction with increased conversion rates and higher ROI.
How to Select the Right PIM Solution for a Digital Commerce Platform?
Understanding the benefits of a PIM is essential, but you must also choose the right solution for your business for quantifiable results. Product information management (PIM) is critical for eCommerce operations. PIM solutions are designed to help businesses manage their product data effectively. With so many PIM solutions on the market, it can be time-consuming to know which is right for your business. Therefore, prior to making any decision, always consider your business needs.
Before selecting a PIM solution, businesses must deeply understand the product lifecycle process requirements. Businesses should ask themselves, what kind of product data needs to be managed? How many products need to be managed? What are product life cycles? Once business needs are understood satisfactorily, narrow down your options. Once you know what is needed, find an apt PIM development solution partner that offers the services with the needed features and functionalities.
Wrapping up
The need for PIM solutions becomes more evident as e-commerce businesses continue to grow and expand. PIM solutions are essential for companies that want to stay ahead of their competition. Businesses can save time and money while improving product data quality by managing product information efficiently. Various PIM solutions are available on the market, and selecting the right one can be challenging. At Syncrasy, we specialize in providing PIM-integrated digital commerce solutions. If you're looking to develop a PIM solution suited to your business requirements? See Syncrasy Technologies profile on DesignRush to learn more about our work and experience.