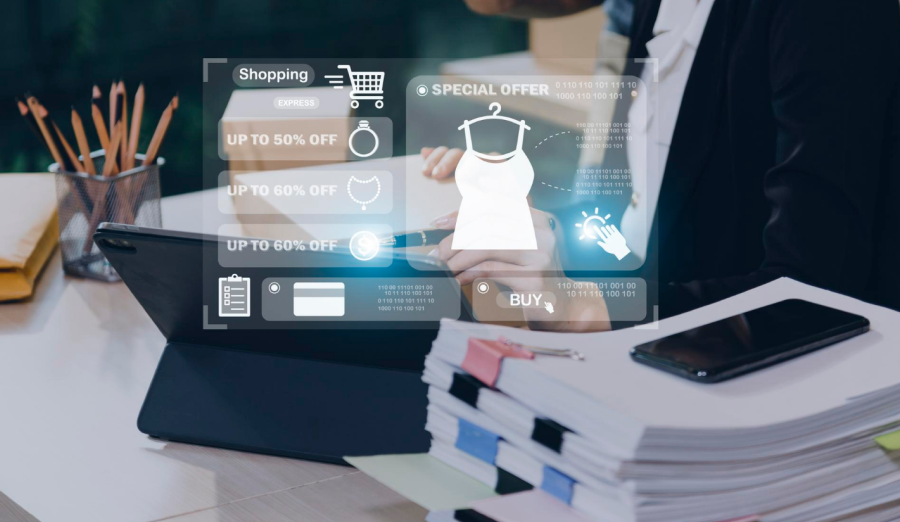 As the global retail framework has evolved over the past few years, e-commerce has become essential. According to the report published by SkyQuest on GlobeNewswire, the e-commerce market is expected to reach a market valuation of $58.74 trillion by 2028 at a compound annual growth rate (CAGR) of over 26.55%. As internet adoption continues to grow at a rapid rate, the number of online buyers is rising substantially. As per the same report, there were 2.14 billion online shoppers in 2021 which went up from 1.52 billion in 2016, a 28% increase in just over five years.
With the e-commerce industry booming across the globe, there are now more opportunities than ever for micro, small and medium enterprises to turn their business into an online marketspace. However, for building an e-commerce business, certain key considerations and strategies must be observed when launching a successful e-commerce business. Read on to discover the key steps to developing a profitable online e-commerce store.
1. Determining consumer needs and offering impeccable customer experience.
Image Source: Prototypr
To build a successful eCommerce store, you must have a product that consumers need, or there's a significant demand in the market for that particular product. Keeping product costs competitive and focusing on marketing a product that customers truly want is the basis for establishing a profitable e-commerce business.
By ensuring a stellar experience for your customers is the only way that you can earn loyal customers and simultaneously increase your customer base. It's all about adding value to the customer experience, which is possible by making your prospects feel special through offers, discounts, free coupons, responding to their queries, quick resolution of their issues, easy payment methods, and so on.
The best support service is a live chat or AI-enabled chatbot that works 24/7 for your customers. This way, you can increase your sales conversion by 10% or more. If it becomes hard to manage the 24*7 support services, you should offer grievance redressal services to help your customers over the phone or by email.
2. Engaging your customers with a captivating website
Image Source: i-Verve
According to a Kissmetrics study, approx. 93% of buyers prefer visual appearance to be the most important factor when making a purchase through an e-commerce store. No matter if you have the best product to sell to your customers and the best customer service, if your website design is not appealing enough, then your online business presence will be affected.
In order to create an engaging online eCommerce marketplace, you can hire a web development service provider. However, if you're a young startup with limited resources, you may find it challenging to hire a web development service provider. If this is the case, you can take advantage of various website-building platforms available in the market that allows easy website development with zero or minimal charges. One such example of a free website builder is Strikingly, a zero-code web development platform that offers pre-baked customizable web design templates enabling you to build your eCommerce website in minutes.
Lastly, whichever option you find suitable, ensure your website design elements captiva,te visitors, which can also be possible by using full-width product images, AR/VR presentations of images, and avoiding distraction with effective content on your website.
3. Choosing the right E-commerce Platforms
Once you have a website in place, you should choose the most appropriate e-commerce platform for your needs. Here are a few famous e-commerce platforms that'll allow you to manage your whole website from one control panel.
Once you choose the e-commerce platform, you can move on to theme Selection and content creation. You can select an appropriate theme for your new online store. At this point, designing your website, navigation, and customer needs all have a part to play. Talk to your web developer to strategize all this as you want your new and existing customers to take through the website. Write your website content by conducting thorough research on relevant industry keywords to ensure your product descriptions, landing pages, and other web pages are optimized for launch. Don't forget to add strong calls to action links too.
4. Integrating a PIM, DAM or CMS system for better management
Image Source: Syncrasy Tech
As your business grows, conventional tools like CMS, ERP systems, and e-commerce platforms start managing product data and then you will start seeing weaknesses in the system. That's why product information management or PIM solutions have become so important to e-commerce. PIM stands for Product Information Management, it works as central management of product information needed for multiple external and internal channels, such as online stores, product catalogs, ERP systems, and more.
The PIM providers offer comprehensive PIM solutions to support the complete process of creation, enrichment, planning, and the release of product information in all channels as needed.
Here is the list of PIM providers:
Pimcore is an enterprise-ready, open-source PIM, DAM, CMS and MDM solution that you can avail without any license cost.

Akeneo is also an open-source PIM solution for retailers and ecommerce brands looking for an efficient system to manage their multichannel needs.

Salsify is a product information management and digital asset management platform that ensure complete digital experience management for your customers.
A PIM solution works with major e-commerce platforms such as Shopify to manage multiple catalogues. Although it's true that these eCommerce platforms offer some capability to manage product information, workflow requirements and the syndication needed in e-commerce organizations are often unavailable, and this is where a PIM solution can help e-commerce businesses.
PIM solutions have many benefits for e-commerce businesses, here are two main benefits:
Empowering the Business
PIM solution can help deliver a digital experience that empowers eCommerce businesses to efficiently manage the creation of catalogues, enrichment of products, governance, data automation, multi-channel retailing, and syndication of product content.
Improving Customer Experience
Online eCommerce business professionals are increasingly looking to add compelling product content to their websites for differentiation in the marketplace. A PIM solution allows eCommerce brands to leverage the power of product data to create more personalized experiences for online shoppers and across channels.
5. Evaluating the performance of your eCommerce marketplace
Before your e-commerce store officially goes live, you'll need to conduct extensive testing. You can take the help of your web development service provider. They can thoroughly test the website using a range of different testing tools. The testing process should continue even after the site launches.
Here is a list of tools to test the performance and usability of your e-commerce website.
Wrapping up
The development of an eCommerce marketplace is a complex and time-consuming process. There are numerous technical, financial, and legal considerations that must be taken into account. However, with careful planning and execution, it is possible to build a profitable eCommerce business. The key is to focus on a niche market, build a strong brand, and offer superior customer service. If you can do these things, you'll be well on your way to success.
Interested in developing your own eCommerce marketplace? Our team has the experience and expertise necessary to develop a successful eCommerce marketplace. Please let us know your ideas our team is open to new projects.