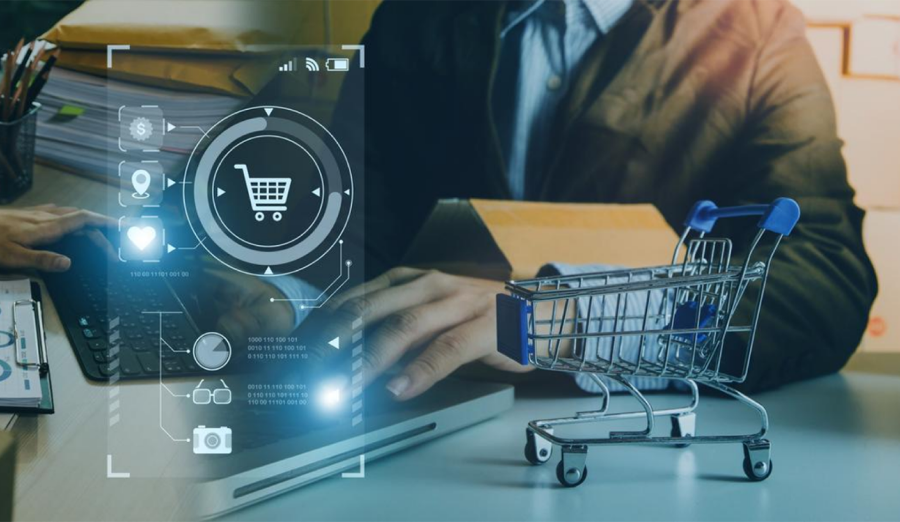 The last decade has seen a dramatic increase in online shoppers and the growth of the eCommerce industry. This trend is only set to continue, with eCommerce sales projected to reach $8.1 trillion by 2026, as per the forecast published on Statista.
However, as the eCommerce industry grows, so do the challenges faced by businesses operating in this space. E-commerce business owners have a lot to do, from managing multiple channels to handling customer data.
Source: Statista
This blog will explore some of the biggest challenges eCommerce businesses face and how Pimcore can help overcome them.
Pimcore as a solution for various business challenges
E-commerce businesses face various challenges, from managing product data to delivering a personalized shopping experience. Businesses need a flexible and powerful platform that can help them manage their online store effectively. Pimcore is an open-source platform that can help enterprises to streamline their operations by allowing them to seamlessly manage their product information management (PIM) processes and automate data entry and maintenance, providing a consistent and personalized customer experience across multiple channels.
Pimcore's user-friendly interface, customizable workflows, and advanced analytics capabilities make it easy for businesses to adapt to changing market trends and customer needs and while boosting their performance. Overall, Pimcore offers a cost-effective and scalable solution for e-commerce businesses of all sizes and industries, helping them to stay competitive and grow their market presence.
Here are the 5 biggest challenges faced by e-commerce businesses and how Pimcore can help to overcome them.
Challenge 1: Managing Product Information
E-commerce businesses face many difficulties associated with managing product information. Managing numerous product information can be particularly challenging for companies that sell a large number of products with varying attributes, pricing, product descriptions and images. Keeping all this information up-to-date and consistent across all sales channels can take time and effort.
Pimcore provides a robust Product Information Management (PIM) system that enables businesses to centralize and manage all product data efficiently. Pimcore allows companies to easily manage product descriptions, images, pricing, and other essential information. Pimcore enables businesses to ensure that their product data is accurate and up-to-date across all sales channels, improving the customer experience and reducing the risk of errors.
Challenge 2: Multichannel Commerce
E-commerce businesses often sell products through multiple channels, including websites, mobile apps, social media platforms, and marketplaces. Businesses with vast product inventories find it challenging to manage product information across these channels.
Pimcore can provide a unified platform that enables businesses to manage product information for multiple channels from a single location. It allows businesses to ensure that their product data is consistent across all channels, streamlining product publishing and enhancing customer experience.
Challenge 3: Personalization
Personalization is critical for the success of any e-commerce business. Customers expect a personalized shopping experience tailored to their interests and preferences. Despite this, delivering this level of personalization can be troublesome, especially for large companies.
Pimcore provides a powerful framework that allows businesses to personalize their e-commerce stores based on user behaviour, choices, demands and other relevant data. Pimcore enhances the customer experience and increases sales by tailoring the shopping experience to each customer's interests and preferences.
Challenge 4: Omnichannel Marketing
E-commerce businesses must engage customers across multiple channels, including email, social media, and mobile applications. Managing several marketing campaigns across various channels can be a complex and time-consuming task.
Pimcore provides a comprehensive solution for omnichannel marketing that enables businesses to manage campaigns across multiple channels from a single location. As a result, businesses can streamline their marketing operations, which reduces the risk of errors and saves time. Additionally, Pimcore provides advanced analytics capabilities that enable businesses to track the performance of their marketing campaigns across different channels, and helps in improving their efforts to increase return on investment (ROI).
Challenge 5: Scalability
E-commerce businesses must be able to scale their operations to meet the ever-growing demand of customers. As businesses grow, they need a platform that can handle the increasing volume of product data, customer data, digital assets, curated content and high traffic volumes.
Pimcore is designed to be highly scalable, with the ability to handle large amounts of organizational data and product information. It allows businesses to scale their e-commerce operations with its digital commerce frameworks that integrates effortlessly with your existing product management systems without worrying about performance or data management issues.
Conclusion
In this rapidly developing digital world, the consumer's shopping experience has transformed to a great extent, and it has opened up a world of opportunities for businesses of all sizes. Pimcore is the smartest choice for enterprises looking for a scalable, robust and flexible solution. If you are looking to develop a new e-commerce website, optimize your PIM processes, or integrate Pimcore with other systems, we are here to help! At Syncrasy Tech, we are always open to new projects and challenges. We offer a wide range of Pimcore digital commerce solutions in Germany, France and the USA.