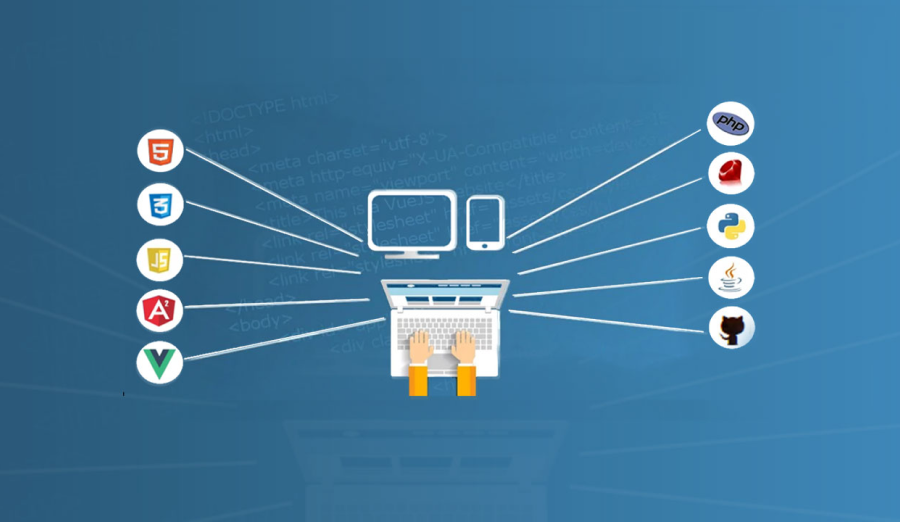 SMEs and startups do everything they possibly can to achieve success in their business. Especially when it comes to the digital world, the percentage of success is as low as 7%. Sounds challenging right! Yes, it is. However, you must be thinking, what are the ways to run a successful online business in 2020. Well, you need to know about the latest trends and techniques, invest on a good website or business app, and you must know your competition.
When it comes to development, modern businesses and startups have a variety of tools and frameworks to accelerate their work such as React JS, Angular JS, Vue JS, Node JS, and Mean JS. But still many times we often get confused while choosing between these top development frameworks. In this situation, one should invest in full stack web development services.
Suppose you've got a business idea and you want to turn it into reality. However, building even a simple software product needs expertise, which is a big challenge for all startups and SMEs. So, how to turn your idea into reality?
The answer is MVP (Minimum Viable Product), which is a technique for developing a new website, product or application.
Image Source: Slidegeeks.com
Most of the SMEs and startups are moving towards MVPs as it minimizes the risk of failure upon the launch of your business web application. And, when we talk about MVP, hiring dedicated full-stack software or web developers are the best for your project. Hence, let's discuss the benefits of full-stack development.
The Benefits of Hiring a Full Stack Developer for Your MVP Project
The full stack developers are all-rounders in developing all the frameworks such as PHP, Angular JS, React JS, Node JS, Vue JS, and Means JS. They have in-depth knowledge of software development, web app development, and also understand every development stage from database implementation to the back-end and front-end development process. Plus, they would suggest to you whether your business app idea is good to apply or not and how to project a development plan.
Few Examples:
One of the best examples of MVP is Food on the Table that is a famous mobile application that takes your food preferences and gives you suggestions of the best cooking recipes that can help you cook good and tasty food.
Another good example of MVP is Facebook, yes, they have also used MVP to connect college students with their colleges and allow them to post messages and posts to their groups. And, today, we all know the result of the Facebook approach that is globally-recognized for its simplicity and the popularity it gained in the world of group communication proved unstoppable.
Benefits:
Cost-Effective Investment
Hiring a full stack developer for your MVP development project can be cost-effective as you don't need to hire the specialized individual developers separately for your project. And, it's always better to have a person with expertise in all trades.
Full Stack Developers Simplify the Design Structure Needs
Any experienced full-stack developer can switch between the front-end to back-end in MVP application development and also take the accountability of the process from the coding to the user interface designs. So, it's easy to pass the full responsibility of your project on the full stack developer.
Ensure Fast & Timely Delivery of Project
If you want to ensure fast and timely delivery of your MVP project, full stack developers make your work easier by working in a team or in a group. They split the work responsibility amongst themselves so that they can coordinate well to give you the optimal result. Moreover, their group efforts result in the fast and timely delivery of the MVP project.
Make Your Process Easy to Implement and Upgrade
The full stack developers are adaptive to the latest updates and technologies; hence it becomes easier for them to manage the process of maintaining and updating your minimum viable product project on time. This will also improve your chances of implementing and upgrading to the latest technology.
Maintain Quality Throughout the Project
A full stack developer never compromises with the quality of your MVP project and they ever try to give you an up-to-date development strategy using the right algorithms and procedure.
A full stack developer can also guide for the issues that may come in the procedure of developing the MVP.
Also, you don't need to explain each and everything related to the project as they fully understand the MVP right from their experiences.
Bottom Line
It may be cost-effective to hire a full stack developer for your MVP development project. Keep in mind that your minimum viable product gets the feedback and reviews from the end customer. Hence, it is essential for you to work with some good full-stack developers and hire them to get a full-fledged web application in the shortest time possible.
An ideal Full Stack developer for MVP can closely work with you to offer a practical and easy to use mobile applications and websites that will help your business to run successfully online.
Get in touch with the team Syncrasy Tech, a Global IT Solutions Company and PIM solution provider to leverage the benefits of full stack web development services. We outsource the best solutions in the industry to our valuable clients all over the world. Simply contact us to hire our dedicated web developers that are well-skilled and ensure timely delivery of projects.